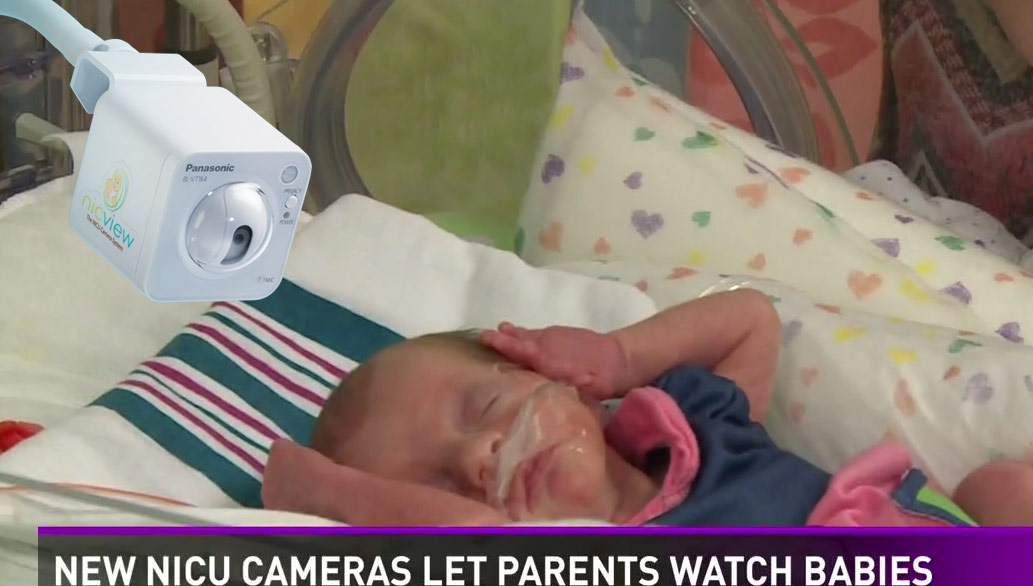 Little Lillian Jane Peters made her entrance to this world early, almost two and a half months early.
"2 pounds 7 ounces when she was born," Lillian's mom, Melissa Peters said," She is one of the smallest ones they have ever had. I think she is the youngest."
Lillian was born on April 21st, not the delivery date parents Melissa and Brian Peters were expecting.
"Pretty scary I mean it all happened really, really quick, I mean we got here and it was 45 minutes later she was born," Peters said.
Now Lillian is in the Neonatal Intensive Care Unit at Hardin Memorial hospital. Her parents make the half hour trip from East View to see her every day, but when they can't be there they can virtually check on her with the NICView Camera.
"I love it, if we didn't have that I would be a nervous wreck because every time we go home we wouldn't be able to see her other than pictures that you have taken, now I can see a live feed, there she is she doing good, alright,  back to sleep," Peters said.
"I think  one of the most difficult things I find with parents apart from understanding the illness of their baby, is being separated, sometimes even being separated is even more painful than just the bearing with the illness or the preterm child itself," Dr. Chukwuma Nnorom said, who is a neonatologist.
"What the NICView camera allows them to do is to have an app that they can secure to their computer or  their I-phone and they can view their child just about any time from anywhere and that is a tremendous access to care, it's terribly important for parents," Dr. Bill Nash said, who is the Hardin Memorial Health Foundation Secretary.
Dr. Nash says they were able to buy 10 NICView cameras with a roughly $36,000 grant from the Honorable Order of Kentucky Colonels. Part of the nearly half a million dollars in special equipment they've added to the now fully operational NICU.
For new mom Melissa, the NICView Camera has allowed her to share this experience with her entire family.
"My dad lives in Indiana, and he is a farmer so it's not like he could drop everything and come down here, but I gave him that, him and his fiancée they get on every night and watch her so it gives him an opportunity to know his first grandbaby, even if it is through a computer screen," Peters said.
The NICViews are password protected, and the only time they are not on is when doctors or nurses are doing procedures on the babies.
There will be also be a monitor used in labor and delivery for fathers and families who cannot attend the birth to virtually be there.
Report from
Learn more about NICVIEW on: nicview.natus.com