Speaker|
Judy Moore, MSc. MCGI., PGCE, RGN, ANNP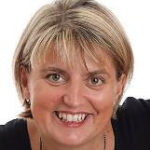 Expected Duration |
1 hour
Format |
On Demand

Tuition |
FREE

Assessing Jaundice in the Newborn Infant
Infants are often discharged within 24 hours of birth and not visually assessed for jaundice until their first follow-up appointment at 1-2 weeks of age. Unfortunately, bilirubin rises and peaks in 3-5 days leaving the baby vulnerable during a very critical period. Left unchecked, bilirubin can cross the blood/brain barrier leading to kernicterus, a completely preventable neurological disease that has devastating consequences including deafness, blindness, cerebral palsy and death. This eSeminar will discuss assessment of risk factors, assessment of bilirubin levels utilizing the bilirubin nomogram, and providing effective phototherapy.
Learning objectives
Understand the mechanisms for hyperbilirubinemia
Understand the risk factors and process of Kernicterus
Understand the importance of good assessment of jaundice
Examine the AAP guidelines for hyperbilirubinemia and identifying infants at risk
Understand the clinical role of nomograms and phototherapy
Recorded e-Seminar | 26.April 2016
Share this e-Seminar with your colleges & friends.